Jezebel Gallery » Meet Jezebel » Biography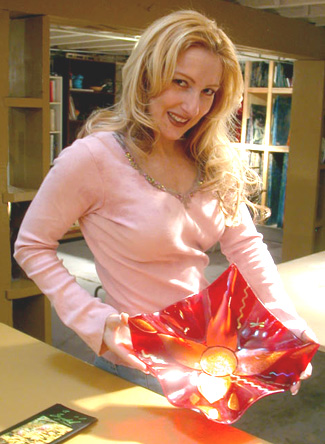 BIOGRAPHY

Jezebel is no ordinary artist or person. Her dedication to humanity and integrity is evident in her works of art and her personal history.

Born in 1969, she has been working with stained, blown, cast, slumped, and fused glass. She first studied stained glass in camp at the age of 10. She was naturally inclined to the material and studied it further in High School.

An outstanding artist, Jezebel was in advanced placement art classes by her junior year and furthered her education by attending night school at Maryland Institute of Fine Art. In 1986 a full color cover article was written about her in the local Journal featuring her as an outstanding runner and artist. In 1987, while still in high school, Jezebel was recognized as a "Maryland Distinguished Scholar in the Arts."

Although she was awarded a scholarship to any college in Maryland, she attended Carnegie Mellon University where she studied hot, warm and cold techniques with glass. She graduated with a double major in sculpture and painting and attended summer school at both the Corcoran School of Fine Art in Washington D.C. and The Cleveland Institute of Fine Art in Ohio. She finished her double major in four years while also indulging eight months to her interest in international studies. Her extensive touring of the globe included Spain, Yugoslavia, USSR, Malaysia, Singapore, Taiwan, Japan, India, Pakistan, Kenya (four months), Egypt, Turkey, China, England and France. After returning from overseas Jezebel was overcome with compassion for world politics and issues. She engaged in several politically controversial performance pieces, which awarded her national coverage from newspapers, magazines and television.

Upon graduating in 1991, she moved to Santa Fe. Here a retired New York art director, Grethe Sorenson, immediately recognized her talents. With Sorenson's support, in 1993 she opened her first art gallery in Madrid, New Mexico. There she showed herself and 20 other artists. After 2 years, Jezebel moved to Santa Fe, left retail art sales and began to teach private lessons in stained glass.

During this period of her life, Jezebel began to focus on her purpose as an artist. She founded Jezebel, Inc. in 1997. And, like the original namesake, she is an outspoken leader. She has dedicated herself to responsible communication. Each piece that she creates has a specific and profound meaning usually related to nature, romance, and religion. Among these issues, she is concerned with the same issue for which the original Jezebel was killed: women and men as religious equals. She is also devoted to animal rights, environmental protection and family planning (overpopulation).

Unlike so many artists that fade away or never get known because they cannot navigate the financial landscape, Jezebel is determined to support and promote herself. The lamps she designs and creates for galleries are works of art. Although she is often compared as a modern Tiffany, Jezebel stands alone.

Jezebel's glass is unlike any other glass in the world. Jezebel holds the patent on her technique for manipulating complexly colored and hand rolled sheet glass. Each piece of glass is hand colored with pigments and metals by trade secret. Then it is hand rolled onto a slab. After the glass has cooled it travels 1500 miles to Santa Fe where it is cut into shapes and slumped into your custom piece.

The special glasses that Jezebel uses surpass any other for lighting, even that which Louis C. Tiffany made and became famous for from 1878-1938. Custom glass made today is more luminous and richer in color. Some glasses are remarkably vibrant and shiny, while other sheets are molecularly designed to have a rich waxy feel and diffuse the light throughout the glass; these glasses eliminate hot spots while still retaining color purity and translucence. And, because the color is inside the glass and not painted on the surface, there is a remarkable 3-dimensional effect while being only 1/8 inch thick. Whatever the glass, Jezebel uses only the best.

Jezebel is an excellent collaborator. To have her interpret your vision into glass art, please contact the gallery.

ARTIST STATEMENT: ROMANCE WITH NATURE
Romance:

1 : to carry on a love affair with
2 : an emotional attraction to an especially heroic era, adventure, or activity
© 2007 Merriam-Webster, Incorporated
Nature:

1 : the inherent character or basic constitution of a person or thing
2 : a creative and controlling force in the universe
© 2007 Merriam-Webster, Incorporated
Together these words lift us up into a rose colored vision of the world. It implies a faith that the nature of things is heroic and filled with love.
I use stained glass because of its spiritual and ethereal qualities. I use metal in my artworks for its strength and malleability. And, I use stones in my work because they represent nature. The tenuous relationship of the glass, metal and minerals are a metaphor for the fragile yet complimentary relationship of woman/man and human/nature in my idealistic visions.
Click here for Jezebel's Resume (Microsoft Word format)
Jezebel Slideshow